The Chrono Cops episodes are memorable for many reasons, including the extensive range of props, and costumes, and special effects. By far, Chrono Cops was a costume based action series. Creative director, Maurice Abernathy, designed the far future of 2005 with a 1960s space age flair, complete with silver mini dresses to slim fitted robots (what we would call androids  today.)
Photo of the promotional pilot poster, designed by Maurice Abernathy & Irving Spotnitz.
The patches worn by the Chrono Cops.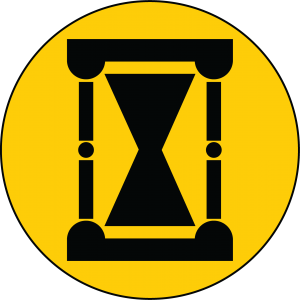 If you have any original props from the Chrono Cops series that you think others would enjoy seeing, please feel free to email pictures and your name so we apply the proper credit.
Links of interest: